Experience and technology
at the service of production.
Our history.
In 1955, with an entrepreneurial spirit and the current working philosophy, the company began to carry out agricultural work and to sow peanuts in the area of General Cabrera.
Until 1989 the production was only destined to the oil industry. That same year, the company began to develop selection processes in a small plant destined for the domestic market for human consumption.
It was in 1992 when INSA decided to cross the borders and started to produce peanuts for Chile and neighboring countries. This opening generated a growth in its productive infrastructure and a commercial expansion that today allows it to export to the most demanding markets in the world.



A large family business
with an entrepreneurial spirit
We are located in the south of the Province of Córdoba, Argentina, in the main peanut production area, where 90% of the national production is obtained.
The process begins during the sowing of peanuts, where the land is selected by professionals who verify the fertility and natural texture of the soil to ensure the production of healthy grains.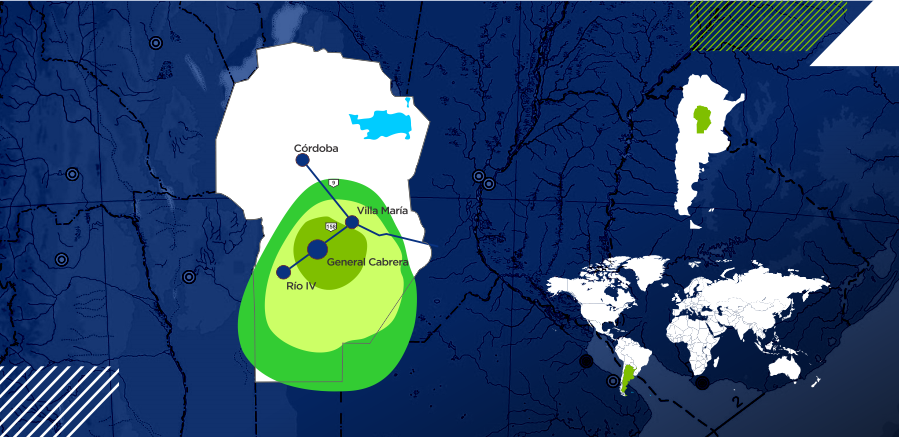 Our divisions.
AGRIFOOD S.A.
It is a company dedicated to agricultural production in its owned and rented fields. It has a highly qualified human team and a state-of-the-art technological infrastructure.
It also produces soybeans, corn, popcorn and sunflower.
INDELMA S.A.
It is a company involved in peanut industrial processes governed by demanding quality guidelines. The production plant is located in General Cabrera.
It develops new products and techniques that improve the positioning of Argentine peanuts in international markets.
INSA COMERCIO EXTERIOR S.A.
It is a company involved in the world commercial strategy.
It is in charge of maintaining commercial relationships with different international customers, discovering new emerging markets and managing export logistics.